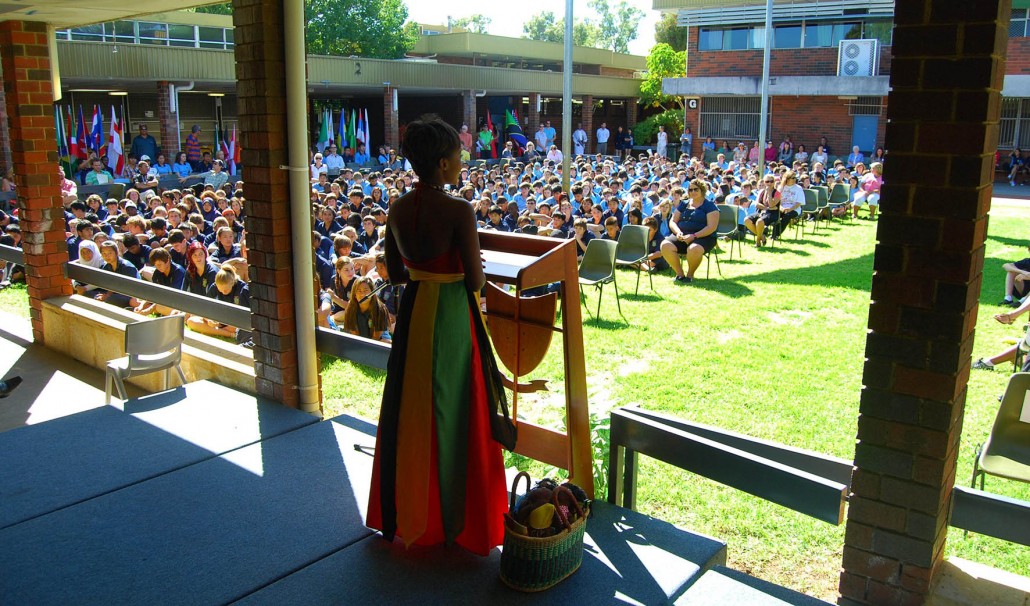 It was national Harmony Day and I was seated on the stage with the Principal, head teachers, school captains and the school choir. I had just finished telling the whole school assembly my story of moving from Zimbabwe to Australia…and it was time for the parade.
The music blared and lots of kids started coming out proudly parading different colourful costumes and flags from countries around the world. As they did that, the Principal told me there were 89 different cultures and languages represented at the school! It was just wonderful and I couldn't stop clapping!
I spoke to some of the kids later and to my surprise they told me they felt that their looks, their accents and their parents made it hard for them to make friends. Some of them were being bullied, some of them didn't think they were beautiful and some of them felt like their parents didn't really understand what it was like for them.
It was Harmony Day! A day to celebrate! I tried to make them smile and give them some tips about making friends but it felt like it wasn't enough.
When I got home I was feeling sad. How were these kids going to learn to speak up and stand up for themselves?
Then I got a BURST of inspiration to write wrote the poem Multicultural Me to show the things that ARE different about us, but also the wonderful things we have in common with each other.
When it came to designing the book, I specifically used humour and cartoons to make everyone laugh, and it seems to be working. My dream is to see ALL kids be happy with themselves and also learn to respect their friends. That's how true friendship will grow!
This book has brought some amazing new friends into my life and I hope it does the same for you.
http://multiculturalme.com.au/wp-content/uploads/2015/12/Harmony-Day-Taku-School-Talks-Australia.jpg
1042
1772
Multicultural Me
http://multiculturalme.com.au/wp-content/uploads/2015/03/Web-Logo-300x138.png
Multicultural Me
2015-12-05 17:56:41
2016-02-24 08:30:20
Once upon a Harmony Day in Australia