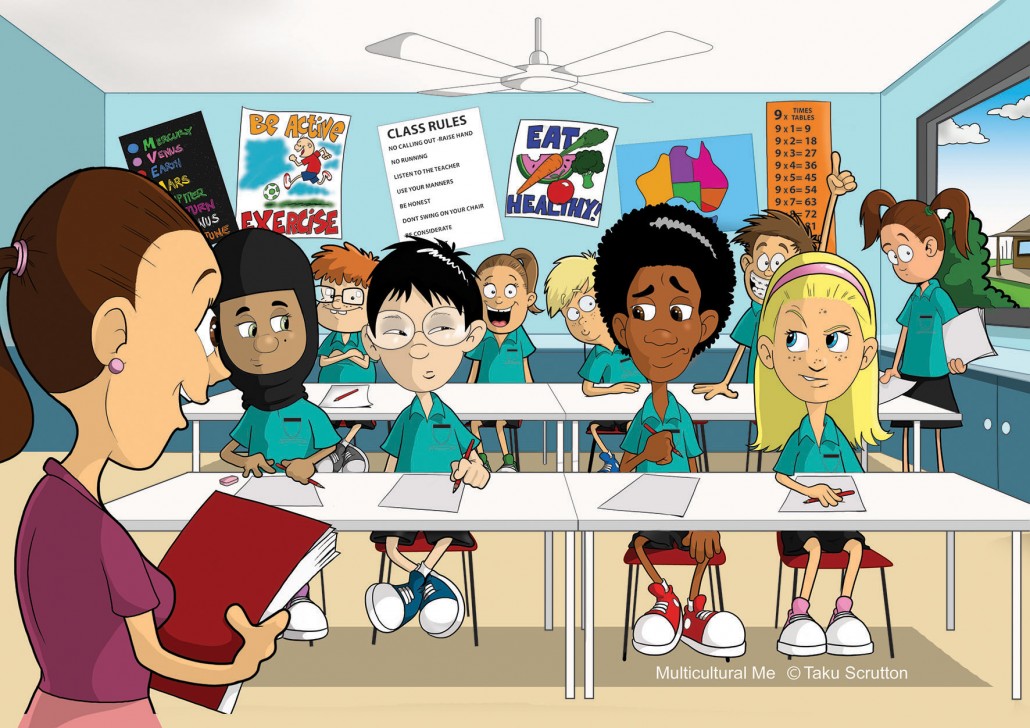 When I wrote the book I decided to create new friends (or pals) with unique stories. They first meet at school and then end up being best friends. Here's a bit of info about our Pip, Amina, Lee and Sammy (PALS), and the people who inspired them.
Pip was born in Australia and so were her parents. She loves spending time at the beach with her family. She loves ballet and is always dancing in shows at school.
Pip is inspired by my friend's daughter who loves to dance. She is also a very friendly girl and very polite when she asks me questions about my culture.
---
Amina was born in Iraq and moved to Australia with her family because of the war in her country. People sometimes give her weird looks because she wears a headscarf.
Amina is inspired by the girls at the Australian Islamic College. I went to give a school talk about there and the girls I met were so friendly and funny. I had so many questions about what covering their heads means to them and they taught me so much.
---
Lee and was born in Australia but his parents moved here from China. Even though he was born here,  he mainly speaks Chinese at home.
I meet a lot of Asian families especially when I give speeches at community events. Some of the kids I have met have been so friendly and playful and talented e.g. when they start doing their traditional dances.
---
Sammy was born in Zimbabwe and moved to Australia 5 years ago. He likes playing soccer with his Dad and when he grows up he wants to play soccer on the moon!
I grew up with 3 little brothers and they all love soccer – I created Sammy as a mix of all of them. Soccer is also known as the world game – it's a sport many people can enjoy together no matter where they are from.
Now that you have met our PALS, you have to check out what they have in common in the book.
https://multiculturalme.com.au/wp-content/uploads/2015/12/Multicultural-Me-Friends-Australia-Iraq-China-Zimbabwe.jpg
1252
1772
Multicultural Me
http://multiculturalme.com.au/wp-content/uploads/2015/03/Web-Logo-300x138.png
Multicultural Me
2015-12-05 18:27:21
2015-12-07 12:33:26
Friends from Australia, Iraq, China and Zimbabwe